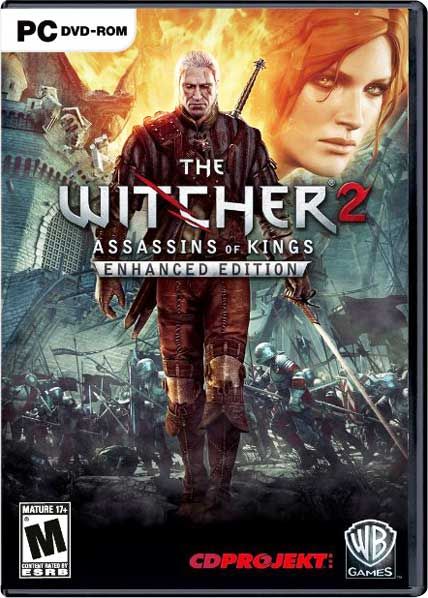 The Witcher 2: Assassins Of Kings is a single player Role Playing Game (RPG), and sequel to the critically acclaimed 2007 PC game, The Witcher. Based on the short stories and novels of Polish author Andrzej Sapkowski, Assassins Of Kings continues the adventures of the Medieval monster hunter for hire, Geralt of Rivia, and his search for the truth of his forgotten past and the treachery surrounding him.
In addition, the Enhanced Edition of The Witcher 2: Assassins Of Kings contains a variety of bonus items. See a complete list of these on the next page.
The Adventures of the White Wolf Continue
After helping to stop the rebellion orchestrated by the Grand Master of the Order of the Flaming Rose, and saving King Foltest's life, Geralt, the most prominent of the genetically enhanced, monster hunting mercenaries known as witchers, has become one of the central figures of political turmoil in the Kingdom of Temeria. Geralt continues to protect the King in the monarch's mission to bring peace to his state. The last bastions of the Order of the Flaming Rose yielded to the royal army, with the only remaining task to pacify the rebellious castle of Baroness La Valette, who announced separation from the Kingdom. But the attempted assassination of the king has changed everything. With the king not safe, and his own loyalties in question, Geralt begins his personal quest – to discover the origin and identity of the mysterious witcher-like assassin.
Immersive and Mature, Nonlinear Storyline
The Witcher 2: Assassins Of Kings Enhanced Edition is a complex, expansive adventure in which every decision may have grave consequences. Its intense, emotionally charged, nonlinear story is designed for mature players, offering over 40 hours of gameplay, 4 different beginnings and 16 different endings. In the gameworld of The Witcher 2: Assassins Of Kings player decisions impact relations with other characters and entire communities, and may also influence the political situation in the Northern Kingdoms.
A Realistic, Vast Game World
Experience and exceptionally realistic, vast game world, teeming with its own life. Explore numerous, highly varied locations, including the mighty La Valette Castle, the bustling dwarven mining town of Vergen, multiple border garrisons and fortresses, ancient forests, and the vibrant trading post and river port of Flotsam.
Spectacular, Tactical Combat
Spectacular, dynamic, brutal combat system featuring numerous tactical options, including advanced monster fighting technique. Combine real-time interactive moves like parry, dodge and riposte with combat based on RPG character traits to succeed in battle. New combat elements include ranged weapons (daggers and bombs), traps and bait, the magic Heliotrope Sign, as well as the ability to sneak up on and launch non-lethal attacks on your foes.
OS: Windows XP / Vista / 7 / 8
Processor: Intel 2.2 GHz Dual-Core or AMD 2.5 GHz Dual-Core
RAM: 1.5 GB (Win XP), 2 GB (Win Vista / Win 7)
Graphics: GeForce 8800 (512 MB) or Radeon HD3850 (512 MB)
Sound Card: Compatible with DirectX 9.0c
LINKS ARE INTERCHANGEABLE