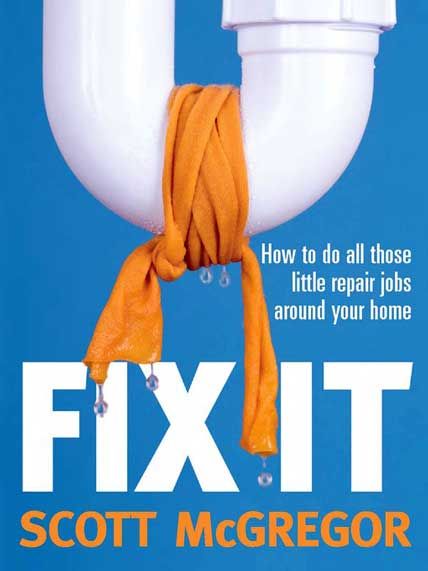 Never mind the big renos, it's all the little jobs around the house that can end up costing you a fortune – unless you can do them yourself.Handyman and DIYer Scott McGregor, previously of Better Homes and Gardens and Home Improvement, shows you how in this essential guide to everything DIY around the home.
Many problems around the house that was in this book. Start from the home page of up to the kitchen, from living room to bedroom, from floor to roof houses. Discussion of the basic toolkit, handling damage walls, floors, pipes, roof, paint, locks, doors, garden, electrical, furniture and many more others. Be clearly and complete all of the things that arise and handling around the house. Even for problems painting and finishing are given a special chapter for discuss it. Described in that chapter, tools and materials used in the finishing process, for example, brush and roller. Also described whether it is paint primer, sealers, primer sealers, undercoat, topcoat, and acrylic enamel. Whether it is finishing flat, low-sheen, semi-gloss (satin) and gloss. One thing that must not forget the safety issues work, is also discussed in this book.
With this book is expected to house about a problem can be addressed by the Daddy, and as early as possible or at least prevent a more severe damage before the case submitted to the experts.
Fix It is packed full of step-by-steps and how-tos for all those tricky little jobs you'd rather not pay a tradie to do, including: everything you need to know about tools, products and materials; making your home more energy efficient; repairs to walls, floors, ceilings, doors and windows; small jobs like hanging pictures, repairing carpet, installing window locks; damp problems; repairing, cleaning and restoring furniture; updating or repairing built-in cupboards and kitchens; wet areas; minor plumbing and electrical jobs; all the tricks and tips for a great paint job; decks, concrete, masonry, gardens, yards, fences, barbecues and outdoor furniture and much much more.
With easy to understand diagrams, Fix It is an essential item in any home tool kit, next to the hammer, the power drill and a length of wire (just in case). Give it pride of place on your shadow board!